With such an innocuous name as Harvey, the impact this Cat 4 hurricane would have on the state of Texas was unrealized until landfall occurred on August 26, 2017.
This storm unloaded fury-filled and sustained winds of 130 mphas the monster made landfall approximately 30 miles northeast of the coastal city of Corpus Christi — as of this writing, Harvey has resulted in more than 75 deaths.
Commercial business disruptions throughout Texas, as well as decreased supplies of oil and gas deliveries throughout the nation due to the numerous rigs and refineries in the Gulf of Mexico and along the Texas coast having to cease operations for personnel and capital equipment safety concerns, continue to be realized.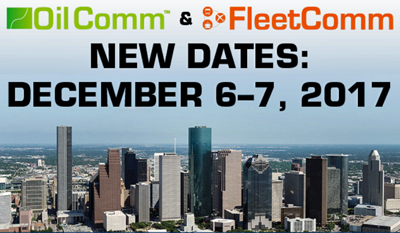 Therein rests the reason why the OilComm Conference and Exposition was canceled and rescheduled for December 6 through 7. This dynamic trade event for the oil and gas and related industries will be held at the Houston Marriot Westchase in Houston, Texas, with more than 800 executives, IT professionals, engineers, technology/data/project managers and more expected to attend.
Being introduced at the show will be FleetComm, a co-located conference that will present a variety of mobile comms solutions, sessions and networking opportunities to those in attendance.
The wealth of information to be imparted to attendees can be measured by the depth and subject-matter expertise of the speakers at this event... here is a link to the speaker list for OilComm.
The keynote addresses will be offered by...
Colin P. Fenton, the Managing Partner of Blacklight Research, with his theme to encompass "The Impact of Advanced Economic Intelligence and other Game-Changing Disruptive Technologies on the Energy Market."
Nancy Shemwell, the Chief Executive Officer of Entrega, who will speak on "Turning Industry Leaders into 'Battle-Tested' Cyber Security Executives."
Pierre-Jean Beylier, the Chief Executive Officer of Speedcast, will address and explain the current state of mobile industries, the speed of the energy market comeback after the last slump and ways in which customers can use technology to prepare for unexpected events in the future.
There will be 43 exhibitors at this event, and a complete listing of those who will be demo'ing and displaying their technologies may be viewed at at this direct link...
OilComm is definitely a one-stop-shop that encompasses market knowledge, sourcing network and communications technology. For details on the programs at the conference, please visit this direct link..