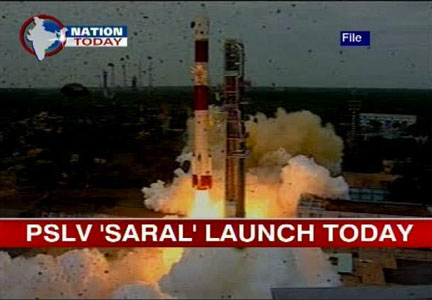 [SatNews] The SARAL satellite, developed by the Indian Space Research Organization (ISRO), was...
...successfully launched from the Satish Dhawan space center in southern India at 6:01 pm local time (1:31 pm in Paris), by the Indian launch vehicle PSLV-C20. It features an innovative Ka-band altimeter, AltiKa, made by Thales Alenia Space for the French space agency CNES and dedicated to the precise measurement of ocean surfaces. 
SARAL/AltiKa is a joint oceanography mission between the French and Indian space agencies, CNES and ISRO. The satellite will be placed in the same orbit as Envisat, at an altitude of 800km. The platform was developed by ISRO and the payload by CNES. The payload module carries several instruments, including AltiKa, a radar altimeter/radiometer which, for the first time in the history of altimetry, uses a Ka-band frequency (35GHz). This high frequency allows the instrument to limit the effects of the ionosphere, and to offer better spatial and vertical resolution, thus improving the observation of ice, coastal zones and bodies of inland water.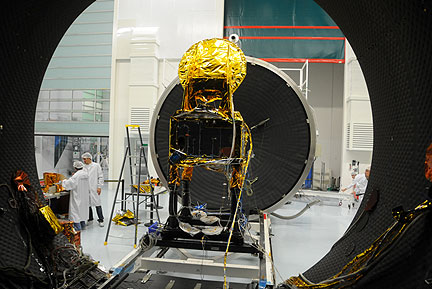 In addition to building this high-resolution instrument, Thales Alenia Space was also responsible for the ARGOS-3 digital data processing module. Belgian company Thales Alenia Space ETCA supplied payload interface components, while Thales Airborne Systems produced the Doris position-determination instrument as well as the ARGOS-3 data collection instrument. The payload processing hardware and software, which handles thermal control and the instrument-platform interface, were developed by specialized companies in the Midi-Pyrénées region of southern France. 
"We're delighted to have contributed to the successful launch of the SARAL-AltiKa altimetry mission, along with the French and Indian space agencies, by providing our expertise in high-resolution altimetry," said Patrick Mauté, head of Thales Alenia Space's Observation and Science-France unit. "As the world leader in space altimetry and Number One in Europe for high-resolution optics, Thales Alenia Space is a pivotal partner in all observation programs for the Earth and its environment."