[SatNews] AltegroSky Group of Companies announces the beginning of work on the new satellite Yamal-401 in position 90 degrees E. AltegroSky Group of Companies is one of the major satellite communication operators in Russia and Eastern Europe. Members include: Race Telecom CJSC, Set Telecom CJSC, Astra-Internet LLC and Moskovsky Teleport CJSC, Altegro Engineering system integrator provides satellite communications services throughout the Russian Federation, CIS countries, Europe and the Middle East.

AltegroSky serves about 20 percent of all VSAT terminals installed in Russia*. At the end of 2014 more than 700 certified partner companies operate under AltegroSky brand, serving over 15000 subscriber's satellite terminals.
Yamal-401 is a large-sized VSAT class satellite. It was launched to the 90 degrees E orbital position and replaced Yamal-300K. Lifetime of the new satellite is 15 years. Its combined payload consists of 53 transponders or 88 equivalent 36 MHz transponders. The payload power of this satellite is more than 10 kW.
Yamal-401 covers territory in Russia and nearby countries. Transponders with standard bandwidth (eighteen 72 MHz transponders) are used by the Northern beam.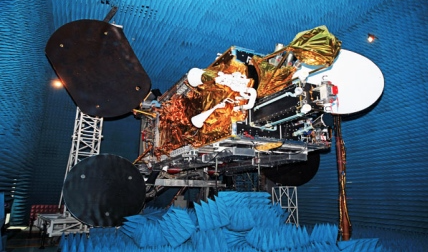 The Russian beam precisely contours the Russian borders. Transponders with "planned" bandwidth (eighteen 36 MHz transponders) operate in this beam.
AltegroSky plans to hire 200 MHz satellite capacity of the new spacecraft, thereby completely covering the needs of clients in obtaining the necessary services in Ku-band frequencies in Russia.
"We waited for this launch. Until now we have been working on satellites Yamal-201 and Yamal-300K in position 90 degrees E and rented a total of more than 75 MHz," the head of the AltegroSky Group of Companies Sergei Pekhterev said. "On this spacecraft, we will use a segment for NOC HughesNet, HX and iDirect,"he said.
Yamal-401 will be the second satellite in AltegroSky network with the iDirect platform. The satellite "Express-AM5" (140 degrees E) is providing services using the equipment from January 2015. Among the services of the company are high-tech solutions for enterprise networks requiring flexible settings to prioritize different types of traffic.
* Source: "Standard", #1 (132), January 2014