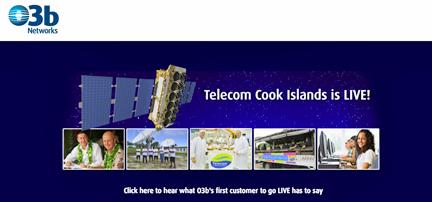 [SatNews] O3b Networks and Timor Telecom (TT) have announced an agreement for high throughput, low latency capacity that will enable Timor Telecom to provision new much faster, high speed broadband, improving user experience and allowing for more and better services and content.

The use of O3b satellites, which are closer to the Earth than conventional geostationary satellites, reduces latency, increases Internet speed and improves voice and video quality for the user. This change will allow Timor Telecom (TT), one of the first operators in the world to use this technology, to significantly increase its broadband coverage and improve the speed and quality of its services for corporate and private clients. With more than 600,000 clients, TT is investing in technology innovation and supplying new services and products that meet the needs of its clients.

Following this change, TT has redesigned its Internet service offer for new and current clients and will be presenting, this month, its new mobile subscriber and broadband Internet campaigns.
O3b Networks' infosite is accessible via http://www.o3bnetworks.com/
Further details regarding Timor Telecom may be found at http://www.timortelecom.tp/