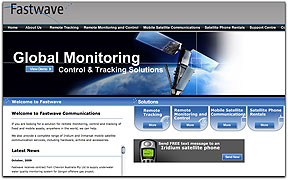 Fastwave Communications has received a contract from Chevron Australia Pty Ltd to supply a water quality monitoring system for the Gorgon offshore gas project based on Iridium satellite data links provided by Iridium Communications Inc. (Nasdaq:IRDM).
The system will provide monitoring of turbidity levels arising from dredging and spoil operations in waters near the gas processing plant location on Barrow Island.
The Fastwave system consists of underwater instrumentation modules positioned on the sea floor around the dredging and spoil disposal sites. Each subsea module contains turbidity sensors, data loggers, an
Iridium
short-burst data
(
SBD
) modem and rechargeable battery packs. They are connected to small moored buoys which relay the data packets through the Iridium satellites to an environmental monitoring system onshore. Protection of the marine environment is a key priority for the Gorgon project and this will include a program of water quality monitoring using the Fastwave system. The system has all electronics and instrumentation packages in waterproof, hardened subsea capsules rather than in surface data buoys, providing extra protection from the cyclones that prevail in the region. The modules are designed to function at depths up to 50 meters with endurance of at least four months between battery recharges.