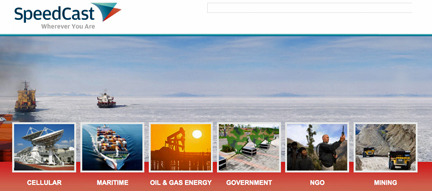 [SatNews] SpeedCast International Limited (SpeedCast) has been awarded a multi-year contract from Arab Maritime Petroleum Transport Company (AMPTC), a provider of maritime transport services of hydrocarbon substances in the Middle East region.

SpeedCast will provide satellite network connectivity for AMPTC's entire fleet of vessels. The company will provide each AMPTC vessel with end-to-end VSAT services that enable corporate networking, Internet access, voice communications, and crew welfare services. The turnkey solution includes network design, equipment, installation, service and 24/7 support from SpeedCast's four global customer support centers. SpeedCast designed the solution from the ground-up, leveraging SpeedCast's global Ku-band network, to meet the specific requirements of AMPTC. The contract is for an initial three-year period, with the option to extend as and when required for an additional three years.

AMPTC specialized in providing maritime transport services for hydrocarbon substances. The company owns and operates a fleet of LPG carriers, crude oil tankers, and product carriers. It was originally established in 1973 by member countries of the Organization of Arab Petroleum Exporting Countries (O.A.P.E.C.). AMPTC operates a total of 10 vessels, with a global range, from its center of operations located in Egypt.

"AMPTC plays a key role in the safe delivery of energy products via its fleet of LPG, oil, and product carriers." said PJ Beylier, CEO of SpeedCast. "This agreement extends our presence in the energy sector, in the Egypt market, as well as in the larger Middle East/Africa region."

This deal follows closely after SpeedCast's recent announcement of a new Energy Division and a new Houston Office, headed by industry veteran Keith Johnson, Senior Vice President / GM Energy Division, SpeedCast.
For additional information regarding SpeedCast, please visit http://www.speedcast.com/
Details regarding A.M.P.T.C. are available at http://www.amptc.net/index.html