Astroscale has named Dr. Clare Martin as the SVP of Programs and Operations and will work with Ron Lopez, Astroscale's U.S. President and Managing Director, to build its space sustainability business and help expand commercial and government space industry activities.
Dr. Martin brings many years of space technology management, operations and engineering expertise to the Astroscale team. This includes strong leadership over a significant portfolio in orbital debris and smallsat business during her tenure at General Atomics Electromagnetic Systems, Surrey Satellite Technology and QinetiQ.
---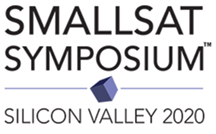 For all involved in the satellite and space industry and the various market segments that add value to these dynamic environments, the 2020 SmallSat Symposium is truly worth your consideration for attendance.
The 2020 SmallSat Symposium starts on February 3, 2020, with workshops, then the Conference runs February 4 to 6 at the Computer History Museum in Mountain View, California, in the heart of Silicon Valley.
The SmallSat Symposium is hosted by Satnews Publishers which, since 1983, has been a provider of a satellite news, media and events. This information packed forum was created to enable you and your company to secure a larger portion of market share as well as to take part in the next stages of your company's or organization's growth.

The personal connections at the SmallSat Symposium enable attendees to network with established organizations, subject-matter experts as well as 'New Space' entrants.
The SmallSat Symposium will focus on new technologies and the business environment that is shaping the implementation of smallsat constellations, smallsat launchers, the challenges facing the smallsat developer and actors as well as the enormous benefits of these advanced technologies that will benefit our world.
This event assembles more than 100 diverse speakers, all of whom possess deep industry experience. Additionally, numerous opportunities exist to mingle and network with peers while enjoying exceptional, complimentary meals and refreshment breakfast.