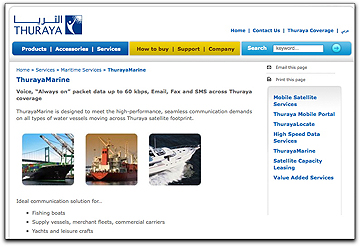 Thuraya has announced an agreement with Advanced Communications Solutions Ltd. to distribute Thuraya voice and data services to the Greek maritime sector.
The announcement enables
Thuraya Telecommunications
to expand its distribution to the home of the world's largest maritime fleet. Under the agreement,
Advanced Communications Solutions
is distributing
ThurayaIP
and
ThurayaMarine
within the Greek and Cypriot maritime sector. The focus is on merchant shipping, private yachts, passenger ships, pleasure craft, military, police, government, and offshore crew calling communities. Customers will access voice communications through ThurayaMarine, while data services will be provided through ThurayaIP. Thuraya's satellite network covers large expanses of water from the Europe to Australia. The company's partnership with Advanced Communications enables it to access customers in Greece, home to almost 40 percent of the world's shipping fleet, in addition to the world's largest shipping management center located in Cyprus. ThurayaIP's technology enables the delivery of proven and reliable broadband solutions to meet the specific data needs of maritime customers. Sleekly designed, with a compact A-5 size and transmission speed up to 444 Kbps, ThurayaIP also offers superior video streaming capability of up to 384 Kbps. Thuraya provides specialized maritime antennas for its ThurayaIP broadband solution, which makes high-speed data available on board ships. ThurayaMarine is a specialized maritime solution designed for a range of sea vessels and can also be supplied with a customized stabilized antenna offering access to the Thuraya network regardless of the ships' movements.