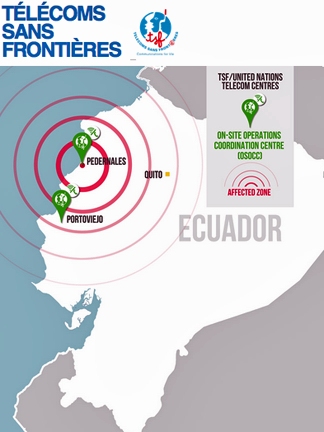 Télécoms Sans Frontières (TSF), the Inmarsat-sponsored emergency telecoms first responder, has deployed to Ecuador to provide emergency support after the strongest earthquake the country has experienced for almost 40 years that struck the country April 16.
A team from TSF's newly formed deployment base in Guadalajara, Mexico, has quickly established a response plan to help more than 100,000 people affected by the 7.8 magnitude disaster. Following an official request for assistance from the United Nations Disaster Assessment and Coordination body (UNDAC), a team from TSF is now supporting its UN partner in its connectivity efforts for the country's most affected zones.
The team will now carry out vital assessments of the telecommunications situation in the area affected by the earthquake, which spans several hundred square kilometers. As well as assisting the people whose lives have been changed by this disaster, TSF teams will also work with aid agencies, the United Nations and the government, implementing means of communication for improved coordination efforts.
TSF will use Inmarsat's BGAN satellite communications service and IsatPhone to provide vital voice and internet connectivity where needed in the country. A unit from TSF's headquarters in Europe is currently standing by and ready to deploy today should support be requested from the field.