Thales Alenia Space, the joint company between Thales (67 percent) and Leonardo (33 percent), has delivered the first designed and built Spacebus Neo Xenon Propulsion System (XPS) module that will be integrated into Eutelsat's KONNECT satellite based on the Spacebus NEO platform that is on track for launch in 2019.
This XPS module was presented in the Space Propulsion Integration and Manufacturing Centre at Thales Belfast, opened in October 2016 after significant investment. The XPS module will be used to raise Eutelsat's KONNECT satellite from the orbit provided by the launch vehicle to the geostationary orbit and then to maintain its station in orbit for at least 15 years.
Following a successful Critical Design Review early 2018, the Spacebus Neo XPS module is now finalizing its manufacturing process:
The Spacebus Neo XPS module is highly innovative. It is very compact but powerful, having the capability to perform the orbit raising of very large satellites. The design has been completely optimized to allow very quick and efficient assembly into the satellite
The responsibility for the design of the propulsion XPS is undertaken by Thales Alenia Space Propulsion Competence Centre based in Harwell, UK. Staff from the Thales UK Belfast facility received specialist training for the assembly and testing at Thales Alenia Space in Cannes, France last year. Over the past six months, engineers in Belfast have completed the implementation process and started the assembly of the xenon tanks, the central tube with electrical and fluidic lines for interconnection with electric thrusters of the KONNECT satellite. The propulsion module is one of the largest and most sophisticated pieces of space hardware ever produced in the UK by Thales Alenia Space, and at an impressive 1.8m high and 3.6m wide when fully fuelled weighs up to 1.8 tonnes.
The first XPS propulsion module will then be shipped from Belfast to Thales Alenia Space France in Cannes to be integrated into the KONNECT satellite which will then undergo test activities preparation for its launch.
"The all-electric propulsion module, designed and built by specialist teams in Harwell and Belfast, represents the strong commitment of Thales Alenia Space to create, sustain and grow world class innovation, design and advanced space engineering skills in the UK, producing important contributions to future space programs. This event is an important delivery milestone not only for Eutelsat, Thales Alenia Space and Thales but also for our stakeholders in Invest Northern Ireland, the UK Space Agency and the European Space Agency. This important step is a reflection of the UK's dynamic and growing space sector. The UK space industry is a key pillar in the Government's Industrial Strategy for economic growth in the UK and the delivery of this module is a tangible example of the progress of that strategy and represents a significant investment in the UK by Thales Alenia Space," declared Ben Olivier, CEO of Thales Alenia Space in the UK.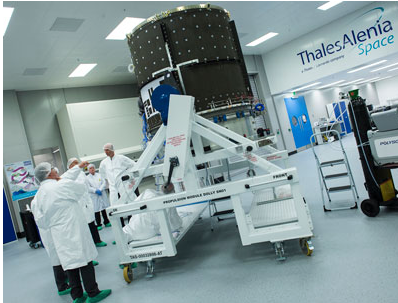 Dr. Graham Turnock, Chief Executive, UK Space Agency said: "Pioneering innovations like this all electric propulsion module will improve access to space, but also deliver new jobs and growth on the ground. We're working with industry to grow our share of the global space market to 10 percent by 2030, and the Thales Alenia Space facility in Belfast is an excellent example of UK capability."
Yohann Leroy, Eutelsat's Deputy CEO and Chief Technical Officer, added, "Championing innovation in the space industry, we are proud to welcome the delivery of the Spacebus Neo XPS module to our future KONNECT satellite, which will reinforce our leadership in the use of electric propulsion for geostationary communication satellites. This collaboration with Thales Alenia Space is of significant importance to us. It marks the first of a two-part series, with two satellites in construction by Thales Alenia Space for Eutelsat: KONNECT and KONNECT VHTS. This groundbreaking industrial approach for the XPS modules, spearheaded by UK space industry, will be rolled-out to both programs."
ESA Director of Telecommunications and Integrated Applications, Magali Vaissiere, said, "We are proud to celebrate this milestone with our partners. Supporting the competitiveness of our Member States' industry is of paramount importance to ESA, and the Spacebus Neo program is a prime example of a successful ARTES public-private partnership, with a satellite system integrator managing a large scale innovative project and its in-orbit validation."