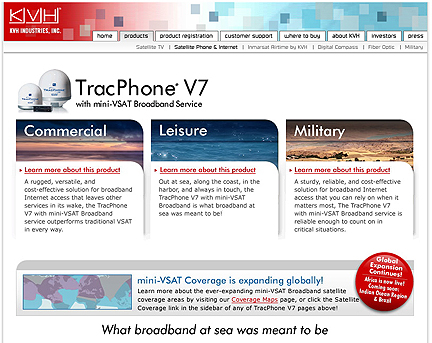 KVH Industries, Inc., (Nasdaq: KVHI) has now doubled their mini-VSAT Broadband(tm) network's bandwidth in the North Pacific Ocean Region.
The
mini-VSAT Broadband
service, along with the
KVH TracPhone V7
antenna, comprise the first FCC-approved, 24-inch VSAT antenna, service, and support package available for maritime communications.
The network's
ArcLight
technology is delivered via ten satellite transponders providing service on a global basis. Each satellite is connected to one of KVH's eight secure earth stations around the globe.
ViaSat
's ArcLight spread spectrum technology was originally developed for military applications in which fast, reliable data connections in all weather conditions are critical. This common architecture makes global integration with a shipping company's IT infrastructure simple while also assuring automatic switching between satellites as a vessel transits between regions. The resulting seamless network offers voice service and Internet access as fast as 512 Kbps (upload) and 2 Mbps (download).