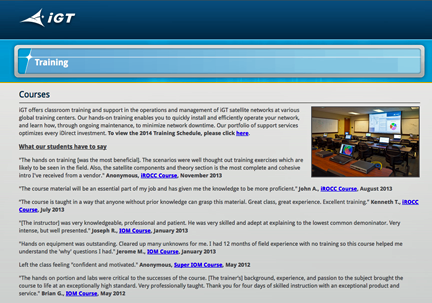 [SatNews] iDirect Government Technologies (iGT), a wholly owned subsidiary of VT iDirect, Inc. (iDirect), has announced the availability of its new Remote Access Training that brings an accelerated version of its popular classroom-based training and support onsite to customers via a secure remote access connection.
The accelerated courses focus on the operations and management of iGT satellite networks. An iGT certified trainer teaches both the classroom and "hands-on" portion of the course to a class size limited to four students. Remote access courses allow the students to visually see the hub configuration and monitor the status during the modified "hands-on" portion of the class. This new offering brings the same level of training to the customer at a reduced cost, saving them money on travel and expenses
Available classes include:
IOM - iDirect Operation and Maintenance (IOM) course, which is designed for Network Operations Center (NOC) engineers at the hub site rather than the remote site, as well as for individuals just entering this career field or working for the first time with iDirect hardware and software. This entry-level course provides the student with the basic skills necessary to install software applications, and operate, manage and maintain a typical iGT satellite network. Utilizing clearly presented lectures, demonstrations and practical exercises, students gain an understanding of all network operations from the iGT hub perspective.
Advanced IOM course covers advanced RF, data communication concepts and their relevance to the iGT system, as well as information handling inside the iGT system along the data path. This training enables those who operate and manage iDirect satellite communication products and networks for the government and military to have a deeper understanding of the iGT system by giving the student knowledge and pointers for troubleshooting.
iQBC - iDirect Quality of Service Boot Camp provides in-depth theoretical knowledge of the functionality of iDirect quality of service (QoS); its features include traditional and group QoS (GQoS), and additional background knowledge on the subject. This course, consisting of various QoS-related subjects, starts with the basics: IP packets, packet capturing and examining, filtering and provisioning of packets using QoS, and building knowledge on GQoS. This course explains how iGT's GQoS feature works and shows students how to configure, manage and troubleshoot the QoS feature. This course is intended for personnel responsible for designing and implementing QoS and service level agreements on iDirect Networks.
"These remote training courses feature the same high-quality course content found in iGT's traditional classrooms, and the iGT certified trainer brings interest and real-world applications to participants," said David Wren, Sr. Director of Professional Services and Training. "Remote access courses enable customers to quickly install and efficiently operate their iGT networks and learn how, through ongoing maintenance, to minimize network downtime and optimize their iGT investments."
The iGT training infopage is accessible at http://www.idirectgt.com/training