[SatNews] Expand Networks has been selected bySPAR Group, in conjunction with Africa's largest Telco provider, Telkom SA, to deliver a managed WAN optimization service.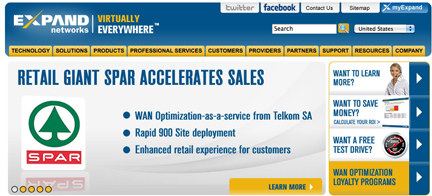 Expand Networks homepage link...
This announcement closely follows the launch of
Expand Networks
'
MSP
partner program and sees Expand's technology successfully accelerating applications across
SPAR
's 900 locations in South Africa. Choosing WAN Optimization as part of a managed service, SPAR has successfully extended its communications investment to optimize productivity benefits. Fast and resilient communications across SPAR's supply chain is critical to ensuring high levels of service and convenience are delivered to customers. The deployment of the entire solution to 900 SPAR sites was completed in six months. Owing to Expand
Accelerators
' ease of configuration in large network environments, this was an exceptionally rapid deployment, considering SPAR's national store coverage. Results were immediate; a number of the group's top retailers quickly gave very positive responses to the solution as user experience improved dramatically. Expand Networks' Byte level Caching, Optimization & Acceleration techniques, immediately realised a reduction in repetitive traffic flowing across the network, such as common websites, antivirus updates and
Windows
patches, while Expand's
Layer 7
monitoring and
QoS
has provided the visibility to assess exactly what traffic is passing through links and then, more importantly, control it.