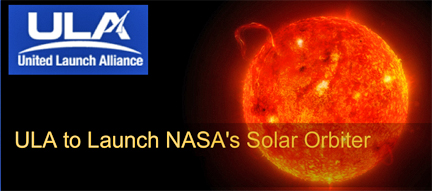 [SatNews] NASA's Launch Services Program has selected United Launch Alliance's (ULA's) proven Atlas V vehicle to launch its next-generation sun explorer called Solar Orbiter—this award resulted from a competitive procurement under NASA Launch Services contracts that considered multiple launch providers.
Solar Orbiter is a mission dedicated to solar and heliospheric physics and is the first medium-class mission of the European Space Agency's Cosmic Vision 2015-2025 program. The program will seek answers to scientific questions about the development of planets and the emergence of life, how the solar system works, the origins of the universe, and the fundamental physics at work in the universe.
With more than a century of combined heritage, United Launch Alliance has successfully delivered more than 75 satellites to orbit that provide critical capabilities for troops in the field, aid meteorologists in tracking severe weather, enable personal device-based GPS navigation and unlock the mysteries of our solar system. Reliable launch, real-world benefits.
For more information on ULA, visit the ULA website at http://www.ulalaunch.com/.