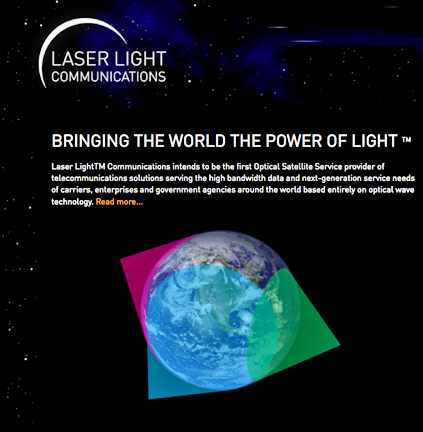 [SatNews] Laser Light™ Communications, LLC (LLC) has announced a Cooperative Research and Development Agreement (CRADA) with the Defense Information Systems Agency (DISA) relating to LLC's Global Hybrid Satellite-Terrestrial All Optical Network™ technology.
LLC and DISA have entered into the agreement to establish a cooperative research and development effort to assess the potential use of an all-optical, laser-based medium earth orbit (MEO) communication satellite solution that could be seamlessly integrated into the global terrestrial communications network. An all-optical satellite communication (SATCOM) system potentially offers numerous advantages over conventional SATCOM systems: 1. It can potentially provide an enormous increase in data transfer rates; 2. It is a more secure system; 3. It will eliminate the issue of spectrum allocation; 4. It will mitigate the challenge of mutual interference as satellite spacing will no longer be an issue.
The agreement will allow DISA to evaluate the underlying technology and evaluate the long-range potential of what may be achievable with the all-optical SATCOM system.
"We are pleased to be a collaborator with DISA in this important effort," said Robert H. Brumley, Senior Managing Director of LLC.

DISA is a combat support agency of the Department of Defense (DoD). The agency provides, operates, and assures command and control, information-sharing capabilities, and a globally accessible enterprise information infrastructure in direct support to joint warfighters, national level leaders, and other mission and coalition partners across the full spectrum of operations.
For further information, please visit http://www.laserlightcomms.com/