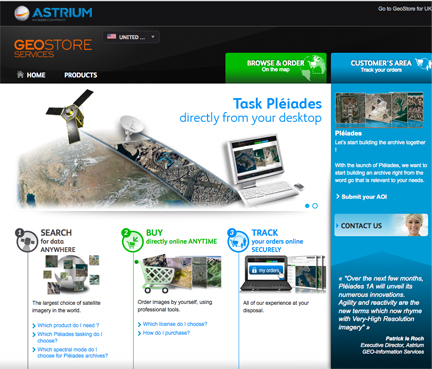 [SatNews] Astrium is opening the GeoStore portal as a gateway to its unique stock of satellite imagery.
Astrium Services' customers will be able to use and to follow the portal to order images taken by the Pléiades 1A satellite, Europe's first very high resolution optical observation satellite in the commercial market. They will also be able to browse through the online catalogue and purchase imagery of any point on the planet taken by the Pléiades and SPOT satellites. Through GeoStore, Astrium Services offers customers almost immediate access to very high resolution products that can be used for detailed cartography and photo interpretation. Before the Pléiades 1A satellite was even launched in December 2011, Astrium Services had already entered into three contracts which included direct receiving stations (DRS), with three leading players in the Earth observation industry (PASCO Corporation in Japan, Beijing Eastdawn Information Technology in China and MacDonald, Dettwiler and Associates [MDA] in Canada).
Pléiades 1A is the first of a constellation of twin satellites. The second satellite will be launched in the coming months. These satellites offer outstanding performance for the commercial sector: images with post-resampling resolution of 50 cm (approximately 20 inches), swath width of 20 km (approximately 12 miles) and remarkable agility in orbit enabling the satellite to focus on points up to 1,500 km (approximately 900 miles) either side of vertical. The two Pléiades satellites will be phased, ie ideally located in their orbit in order to produce a fresh image of any point on Earth every day.
Pléiades complements the SPOT satellites, the latest version of which, SPOT 6, will be launched into orbit late summer 2012. SPOT 6 and 7 will produce data with a resolution of 1.5 m (approximately 5 feet) with a swath width of 60 km (approximately 40 miles) for mapping very large areas. The Pléiades (1A and 1B) and Spot 6 and 7 constellations will be positioned equidistantly around the Earth, so that, by 2014, Astrium Services will possess an unrivalled capacity for delivering the most up-to-date images in the commercial market. With its fleet of satellites, Astrium Services will become the first operator in the world able to offer a comprehensive range of optical and radar Earth observation data from medium to very high resolution.
An example of the new service is the Pléiades 1A capture of the brand new National Stadium in Warsaw (below), where the opening match of the Euro 2012 tournament will be played on June 8th, and also the Olympic Stadium in Kiev that will host the final on July 1st. The highly detailed images clearly show the surrounding cities—the street layouts, railways and other infrastructure. In the city centre and close to large parks, both stadiums stand out with their striking architecture. Launched in December 2011, the Pléiades 1A satellite generates 50-cm-resolution products ideally suited for precision mapping and photo-interpretation.