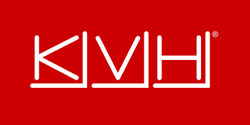 Garmin International, Inc. a unit of Garmin Ltd. (Nasdaq: GRMN), and KVH Industries, Inc., (Nasdaq: KVHI), have announced an arrangement to offer two marine satellite TV antenna systems made by KVH as part of a Garmin marine network package.
The two dome products — the GTV5 and GTV6 powered by KVH — will be offered by Garmin to select recreational boat builders and select high-end installing leisure marine electronics dealers. KVH pioneered the field of mobile marine satellite TV with their TracVision® line of satellite TV antenna systems. Garmin's marine products include chartplotters, multifunction displays, high-definition radar, sonar technology, autopilots and more; the products announced today will be Garmin's first satellite TV antenna dome products.
The GTV5 (45 cm/18 in diameter) and GTV6 (60 cm/24 in diameter) offer outstanding high-performance tracking and reception, and fast satellite acquisition, no matter the sea conditions. These popular satellite TV domes for sportfishing and cruising boats are compatible with DIRECTV® U.S., DISH Network®, Bell TV, Sky Mexico, Sky Italia, and Sky U.K., and circular and linear Ku-band services worldwide. They can be used to receive high-definition satellite TV programming with Ku-band services, and are fully stabilized to enable boaters to enjoy hundreds of digital TV and movie channels via regional satellite services around the world. KVH's exclusive RingFireTM technology provides stronger signals, wider geographic coverage, and better reception, and KVH's IP-enabled TV-Hub is included with every system to deliver easy setup and operation.
Garmin is a world leading marine electronics manufacturer1 and was recently named Manufacturer of the Year for the third consecutive year by the NMEA, an honor given to the most recognized marine electronics company for support of products in the field. Garmin's portfolio includes some of the industry's most sophisticated chartplotters and touchscreen multifunction displays, sonar technology, high-definition radar, autopilots, high-resolution mapping, sailing instrumentation, and other products and services that are known for innovation, reliability, and ease-of-use. Other Garmin marine brands include FUSION Entertainment, and Navionics, a premier supplier of electronic navigation charts. Garmin serves five primary business units, including automotive, aviation, fitness, marine, and outdoor recreation.
KVH's TracVision line has been recognized by the National Marine Electronics Association (NMEA) with a product award for 20 consecutive years.
1Based on 2016 reported sales.