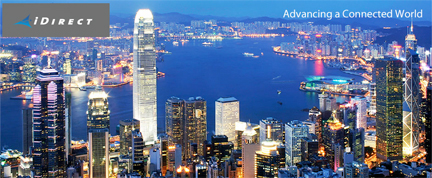 [SatNews] iDirect Asia Pte Ltd has announced that LiveCom Limited ("LiveCom"), a Hong Kong based ISP, has selected Evolution as the platform to help enterprise and government customers expand their reach beyond the Asia-Pacific market.
LiveCom offers satellite based-services such as VoIP, videoconferencing, streaming media and data backup to customers across a broad array of markets that include construction, energy, mining, IT consulting and government. Seeing an increasing need for customers to expand services beyond the Asian market, LiveCom knew it needed a satellite platform that would provide the immediacy for market expansion, along with the same level of quality and service. LiveCom will be using a mix of different iDirect remotes, each tailored to the market-specific demands of their customers across different verticals.
"We are seeing an influx of growth for the use of VSAT within the Asia-Pacific market, and many of these enterprises and government agencies are also focusing on expanding their services worldwide. Successful global expansion requires the same level of service quality and reliability you provide within your core markets anywhere in the world. iDirect's Evolution platform can ensure such needs are met without limitations, both now and in the future," said Tom CHEONG, the Vice President of iDirect Asia.
For additional information, please visit http://www.idirect.net/