Wegener Corporation (Nasdaq: WGNR) will promote new products and methods to localize file-based workflows for private networks, service providers, content providers, radio broadcasters, international and government markets at SATELLITE 2009 (Booth #641).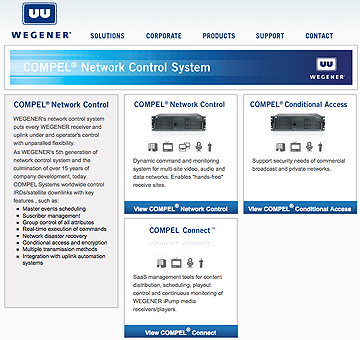 WEGENER's showcase includes product previews of its new
Compel Connect
™ web-based network control solution, the
iPump
®
525
IP media player, and
MicroCasting
™ solution for radio programmers.  
Compel Connect
, a new
software-as-a-service
(
SaaS
), gives VSAT network operators access to management tools for content distribution, scheduling, playout control, and monitoring of
WEGENER iPump
media receivers/players via an Internet connection.  It provides enhanced support for multiple users per network and remote content management for audio, video and data content.  Compel Connect offers an easy to use, integrated system to control smaller regional advertising, retail video displays, corporate communications, subscription, and news & information projects.
  The
WEGENER iPump 525 IP media player
is part of a cost-effective solution for video services that need to be tailored on a site-by-site or regional basis.  Optimized for retail and other applications that require timely and visually compelling presentation of information, the combination of the new iPump 525 IP media player and Compel Connect provides new opportunities to launch digital retail projects.  All video playout can be augmented with graphics and text, so it's easy to add local merchant contact information. Plus the iPump 525's text overlay feature can immediately update hundreds of displays with time sensitive information, such as stock prices, flight schedules, and horse racing odds, with a choice of static, scroll, or crawl formats.  Output can be standard definition video, or attention getting 1080i high definition. MPEG-1, MPEG-2, and MPEG-4 (H.264) video formats are supported.
For national radio programmers, WEGENER previews its new
MicroCasting
solution, which significantly improves the management, distribution and playout of highly customized content tailored to individual affiliate stations. The approach provides the ability to combine national content with local content and automation schedules. Additionally, WEGENER will showcase their
Unity 552
enterprise media receiver for live event coverage.  The unit supports MPEG-4 (h.264) video and DVB-S2 demodulation for superior bandwidth savings.   The Unity 552 is part of the WEGENER Unity satellite media receiver product line designed for a wide range of live broadcast services.