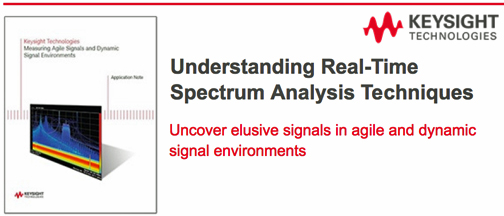 When dealing with an environment populated with agile signals, the process of analyzing and understanding those signals becomes more difficult.
Determining signal duration, where the signal occurs in the spectrum and how large or small the signal is requires a signal analyzer capable of performing real-time spectrum analysis (RTSA), real-time data capture or both.
The Keysight Technologies application note Measuring Agile Signals and Dynamic Signal Environments provides two case studies—a single agile S-band acquisition radar signal and a dynamic signal environment with multiple agile signals. Both examples illustrate available tools and techniques for making selective measurements, processing them and then transferring captured signals to other analysis and simulation tools.
Additional information and to download this content, please visit this direct link...