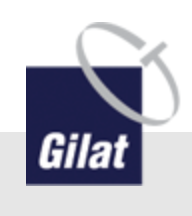 Gilat Satellite Networks Ltd. (NASDAQ, TASE: GILT) must have made the position of Regional Vice President, North America, very appealing for Slava Frayter to come to work for the company after his 19 year tenure at Newtec.
At Newtec Frayter served in various management roles, rising to the position of Vice President, Americas in 2008, where he was instrumental in developing market strategy and leading significant expansion in the region. His experience also includes extensive knowledge of satellite communications and various markets, including enterprise, government, broadcast, maritime and aero mobility.
Michal Aharonov, VP Global Broadband Networks at Gilat stated that in alignment with their strategy to maintain on-the-ground business presence worldwide and to enhance responsiveness to the significant business opportunities they see in North America, they have decided to appoint a dedicated Regional Vice President. Towards that end, he is excited to welcome Slava Frayter, their new RVP for North America.
Slava Frayter, Gilat's RVP, North America added that this is an exciting time in the industry. Joining the Gilat team presents an outstanding opportunity for him to play an important role in accelerating the company's growth in North America. He looks forward to building on Gilat's innovation and technological strength to drive its market strategy in the region.