[Satnews] The APSTAR-9 satellite was successfully launched by China on October 17, 2015, on behalf of Hong Kong based APT Satellite Company Limited.
APT procured their DFH-4 platform APSTAR-9 Satellite from CASC (China Aerospace Science and Technology Corporation). This satellite will be slotted at 142 degrees East and replaces the APSTAR-9A satellite. This is the first satellite for the company that is based on the DFH-4 platform, which was built by the China Academy of Space Technology, otherwise known as CAST. Malaysian firm TS Global Network invested in the satellite's MySat-1 payload for the C-band transponder services.
The prime for the APSTAR-9 build was the China Great Wall Industry Corporation, whose next project is a Laotian satellite named Laos-1, scheduled for a push off this November. The company also has a a satellite launch set for 2016 for Belarus, the first time China has garnered a contract for a European satellite. As of this writing, China Great Wall has managed 41 rocket launches sending 47 satellites to orbit for 20 foreign clients aboard Long March 3 rockets.
APSTAR-9 is equipped with 32 C- and 14 Ku-band transponders. C-band coverage consists of one broad beam for Asia Pacific region ("AP Beam") and one enhanced beam for South East Asia ("SEA Beam"), which is suitable for video broadcast, VSAT networks and cellular backhaul services.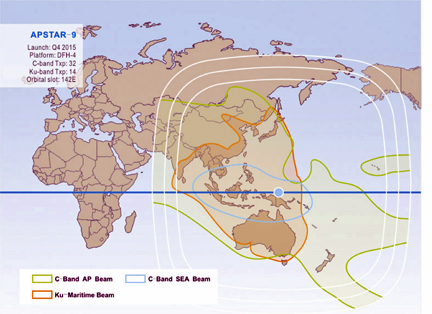 The Ku-band will cover the western Pacific and East India Ocean regions and will provide DTH, VSAT, mobility services, such as maritime and in-flight connectivity. The satellite has an expected service life of 15 years in duration.
The launch occurred from the Xichang Satellite Launch Center in China via a Long March 3B/G2 configured launch vehicle. The ground segment and satellite operation was the responsibility of China Satellite Launch and Tracking Control General.