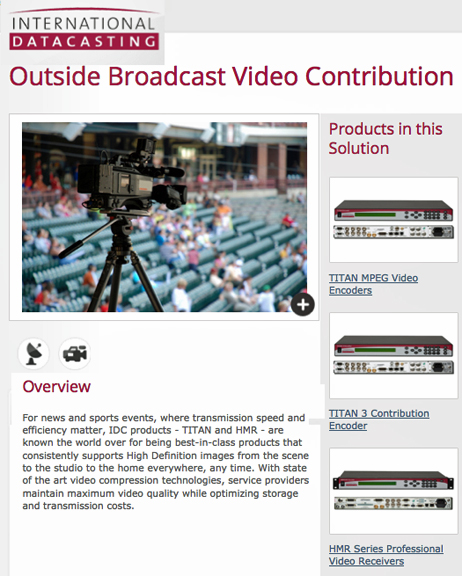 [SatNews] International Datacasting Corporation (TSX:IDC) has shipped the new TITAN 3 Contribution Encoder for deployment in Latin America.

IDC's new partner in Mexico, Grimsat, selected the TITAN 3 Contribution Encoder for low latency encoding of news and sports content.
The TITAN 3 provides the perfect balance of high video quality, ground-breaking latency performance, and best-in-class usability for demanding outside broadcast applications. IDC designed the TITAN 3 with extremely low latency—or encoding delay—of only 150ms, which enables broadcasters to be first to air with breaking news, and to conduct the most natural live interviews from remote locations. With available 4:2:2 10-bit encoding in HD, and support for 150ms latency to a wide range of decoder platforms, TITAN 3 raises the standard for video contribution.
The TITAN 3 Contribution Encoder design is based on more than a decade of IDC experience serving the outside broadcast industry. TITAN Encoders are built from the ground up for the demanding conditions of outside broadcasting, featuring rugged construction to achieve superior reliability. The TITAN 3 retains the familiar, easy to use front panel which allows quick setup for mission critical operations, and is able to achieve signal on-air from power up in less than 60 seconds.
Miguel Grimaldo, Grimsat's CEO, said, "Image quality and encoding latency are key factors in outside broadcast applications, and the TITAN 3 Contribution Encoder provides great performance without sacrificing reliability or ease of use."
The IDC infosite may be accessed at http://www.datacast.com/
For further information regarding Grimsat, please visit http://grimsat.com.mx/