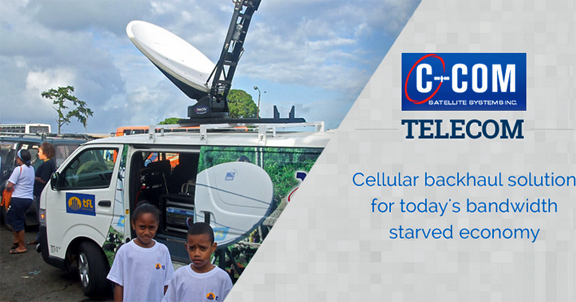 [Satnews] C-COM Satellite Systems Inc. (TSXV: CMI) has signed a Memorandum of Understanding (MoU) with China Communications Technology Co., Ltd. (CCT).
CCT, based in Shenzhen, China, is one of the largest ICT companies in China, with sales in excess of $1 billion USD in 2014. The company is ranked 9th on the Deloitte China High Technology High Growth Top 50 List and is a leading service provider of high speed mobile broadband communication solutions to Chinese enterprises in China and around the world.
The signed agreement authorizes CCT to become a C-COM reseller and allows them to deliver turnkey solutions integrated with iNetVu® mobile antenna products to their worldwide customer base. The MoU also covers joint research and development projects involving Ka-band SATCOM on the Move (SOTM) antennas that C-COM is currently developing with the University of Waterloo.
Executive Comments
Leslie Klein, President and CEO of C-COM Satellite Systems Inc., said, "C-COM has delivered more than one thousand iNetVu® antenna systems to China and has developed a stellar reputation for high quality, reliability and first class support. CCT has selected to work with us based on our proven track record and we look forward to working with them in China and in other parts of world."
"C-COM is a well-known global supplier of auto pointing antenna systems" said Mr. Qing Ding, the Vice President of CCT. "The company is also recognized for its dynamic research and development team, for its high quality manufacturing, and for its large global reseller network. CCT plans to integrate C-COM's new Ka-band on-the-move antenna system with our mobile broadband solutions and cooperate with the company to rapidly bring to market the next generation engineered material products they are developing."