[Satnews] KNS, Inc., a designer, manufacturer and integrator of marine communication systems launches the first KU-Band in its SuperTrack Series for On The Move applications, that has undergone the strict and rigid Military Specification Testing for shock and vibration.
For shock, the antenna has been tested and approved under MIL-STD-901D, and for vibration the antenna has been tested and approved under MIL-STD-810G.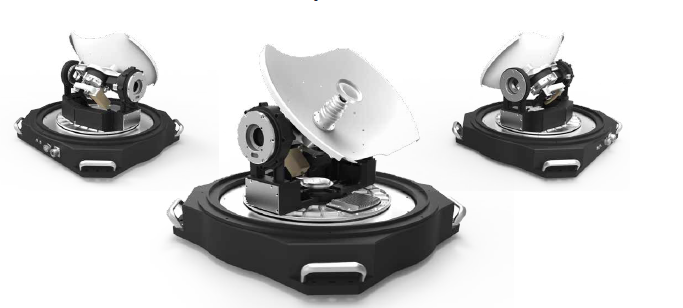 When it comes to warfare, the military need secure, reliable and fast bandwidth for voice, data and video communications to keep them connected and informed. The latest OTM Ku-Band not only is built to withstand the harshest of conditions, but it is able to withstand dynamic movement and explosions and still remain connected by using its unlimited continuous 360 searching azimuth feature. The azimuth is also cable wrap free.
Size is important when it comes to OTM applications. The KU-Band antenna is just 45cm (18") in diameter and can identify and acquire satellite signals as quickly as possible, using its automatic satellite search and skew control (±90). Once you have a fix on the satellite signal, KNS's distinctive acquisition algorithms ensure that you maintain the signal. The acquisition time is 30 seconds and should you lose signal, the reacquisition time is 5 seconds.
The OTM Satellite Antenna also comes standard with an editable 80 pre-programmed satellite database. The Antenna is operable in all dynamic environments and can operate in extreme temperatures between -20C to +55C, a storage temperature of -40C t+70C and can handle humidity with 100 percent at 40C.
When it comes to movement, the antenna has been engineered to cope with ship motion of Roll of ±12, 12 second period and pitch of ±4, 4 second period.
The antenna functions under the following frequency: TX: 13.75-14.5 GHz and RX: 10.7-12.75 GHz. Equally as important is the antenna gain: TX: 34.91 dBi@ 14.2GHz and RX: 33.16 dBi @11.6 GHz.
The L-Band frequency is 950-2150 MHz and has linear polarization. The OTM antenna's angular velocity has an elevation of 200 degrees per second and azimuth is 300 degrees per second. The angular acceleration has an elevation of 2000 degrees per second and azimuth of 3000 degrees per second.
The antenna operating voltage is 28V DC, an Ethernet interface, a >40bar hydrostatic pressure and complies with MIL-STD-461F for EMC.
Like all KNS antennas, customers are offered a 2 year parts warranty and a 1 year onboard labor warrantyfor all of their SuperTrack series products.
KNS looks forward to supporting the critical needs of military missions and other commercial environments in their plight for fast, reliable and secure communications on the move.