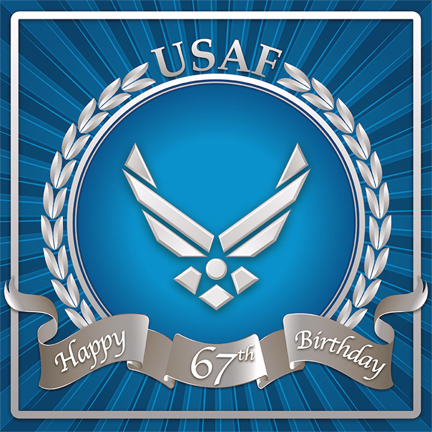 [SatNews] Today, September 18, 2014, happens to be the 67th birthday of the United States Air Force.
Col. Bill Liquori, the commander of the 50th Space Wing at Schriever Air Force Base, summed the event up for his command.
"As we celebrate the 67th birthday of the Air Force, let me wish you a happy birthday as well. This is a time to reflect on your service and contribution to the Air Force and this country. Each and every one of you is critical in ensuring our superiority in air, space and cyberspace. Since its creation on Sept. 18, 1947, the Air Force's men and women have continued a tradition of integrity, service, excellence, innovation, courage, compassion, honor and sacrifice.

"Throughout our past, we have benefited from points in time when innovation, courage and determination set us on new paths to success. We have long followed the teachings and principles of the Air Force's "Captains of Airpower" who have leaned forward during periods of uncertainty, resulting in today's agile service, able to adapt and respond faster than our potential adversaries.

"One of these "Captains of Airpower" is Gen. Bernard Schriever, the namesake of your base. He was the architect of the Air Force's ballistic missile and military space program and enabled us to successfully expand the Air Force mission to the space domain. Regardless of whether you provide critical support functions, operate networks, or operate satellites, you continue his legacy of excellence every single day.

"The Air Force will continue to be the greatest air force in the world because of its men and women; and because of you who remain the Masters of Space enabling us to command satellites to deliver decisive global effects.

"Again, Happy Birthday to you."
The Schriever Air Force Base infosite is located at http://www.schriever.af.mil/