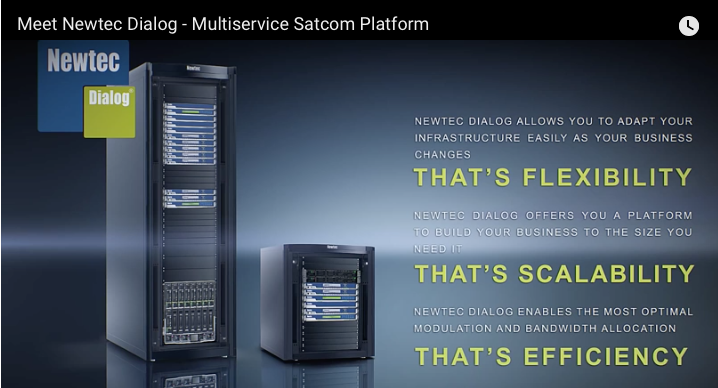 Newtec's Dialog® multiservice platform heads to sea with accommodations that, together with global telecommunications provider Milano Teleport of yachts—primarily via the "Orbis Yacht" brand and cruise liners with "iSeaglobal"—that enables them to have very high-bandwidth connectivity. This is important especially now during the height of the maritime season for yachts in the Middle East. Milano Teleport is mainly using two types of Newtec modems depending on the throughput required – Newtec's MDM33xx and the MDM5000 Satellite Modem series.
A number of vessels are already in service, with Milano Teleport seeing significantly reduced Operational Expenditure (OpEx) as a result of the Newtec Dialog hub located at its teleport in Italy. Milano Teleport is also taking advantage of the multiservice capability Newtec Dialog brings. In addition to offering maritime services over the infrastructure, it is using the same Newtec Dialog hub to deliver broadband connectivity services in Africa. Newtec's certified business partner Diem Technologies was also involved in the project, primarily in the project planning phase and to support the distribution.
Newtec's Dialog features the award-winning return link technology Mx-DMA, which delivers the efficiency of SCPC with the bandwidth allocation of MF-TDMA. This enables the operator to expand customers' capacity when required, ensuring the best-cost performance, bandwidth efficiency and reliability of services. The platform combines this with mobility that includes flexibility to manage beam switching in a global network.
Luca Massaro, Chief Technology Officer at Milano Teleport said that as a globally recognized telecommunications and internet provider, remaining customer-centric and meeting the specific needs of each market they operate in is at the top of our agenda. They chose Newtec Dialog due to the capabilities it brings to their maritime portfolio such as very high data rates and increased efficiency which enables them to serve their most demanding customers very cost-effectively. Thanks to Newtec's modems and its Mx-DMA® bandwidth allocation technology, they can deliver improved bandwidth utilization with the highest level of efficiency to ensure their customers continuously enjoy on-board connectivity at all times.
Jo De Loor, VP Market Development at Newtec added that operating mobility and fixed services on a single Newtec Dialog platform reduces both OpEx and Capital Expenditure (CapEx) without compromises for Milano Teleport. As users' needs evolve, Newtec's modems provide Milano Teleport with the efficiency, throughput and flexibility to optimally serve end-users with a touch of a button, positioning the provider to meet the demand for reliable, high-speed connectivity quickly and cost-effectively in maritime and fixed markets.