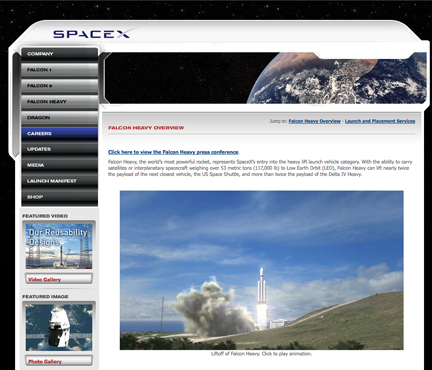 [SatNews] The United States Air Force Space and Missile Systems Center has awarded SpaceX two...
...Evolved Expendable Launch Vehicle (EELV)-class missions: DSCOVR (Deep Space Climate Observatory) and STP-2 (Space Test Program 2). To be launched on SpaceX's Falcon launch vehicles in 2014 and 2015 respectively, the awards mark the first EELV-class missions awarded to the company to date.
The DSCOVR mission will be launched aboard a Falcon 9 and is currently slated for late 2014, while STP-2 will be launched aboard the Falcon Heavy and is targeted for mid-2015. Both are expected to launch from Space Launch Complex 40 at Cape Canaveral Air Force Station, Florida. Both missions fall under Orbital/Suborbital Program-3 (OSP-3), an indefinite-delivery/indefinite-quantity contract for the US Air Force Rocket Systems Launch Program. OSP-3 represents the first Air Force contract designed to provide new entrants to the EELV program an opportunity to demonstrate their vehicle capabilities.
The two missions will support the EELV certification process for the Falcon 9 and Falcon Heavy. Falcon Heavy, the most powerful rocket in the world, is expected to take its first flight in the second half of 2013. Building on reliable flight proven architecture, the Falcon 9 and Falcon Heavy launch vehicles are designed for exceptional reliability, meeting the stringent U.S. Air Force requirements for the Evolved Expendable Launch Vehicle (EELV) program.