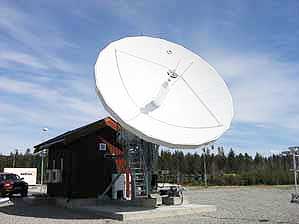 [SatNews] Vizada Networks sent their team on a special mission for the Norwegian Defence Logistics Organisation (NDLO) and they delivered.
Vizada Networks known as the integrated satcoms and CIS systems specialist for the defense industry has
completed the installation of a 6.3m antenna at a satellite station for the Norwegian Defence Logistics Organisation (NDLO)
. The contract, which was won on open tender, covered installation of the antenna system to agreed specifications, QA management including documentation and training.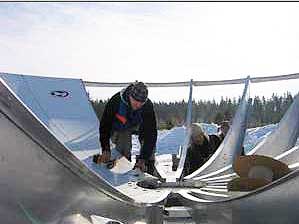 The installation and testing of the 6.3m Vertex antenna and associated equipment was
performed by two teams:
The '
Antenna team
' which consisted of an experienced Vertex supervisor and two experienced engineers from Vizada Networks and the '
RF/IF team
', which consisted of engineers from Vizada Networks. The system was extensively tested with members of NDLO attending the FAT in addition to supervising the installation of the antenna on site.
"Vizada Networks was chosen to help upgrade our communications network with this new antenna based on the products,
cost efficiency and their ability to meet a short installation deadline
. We are very pleased with how the installation was conducted and the end results," comments
Odd Espegren
,
Senior Engineer at NDLO CIS
. "The Vizada Networks people were at all times friendly and very knowledgeable, and we are happy with both the project management and the installers themselves. So far everything has been working excellently.
There are no problems at all, either with the equipment or operations.
"
Training was also an important aspect of the project, with two training courses each with ten NDLO people attending,
from experienced engineers through to system novices. Feedback from NDLO is that the courses were extremely useful for the operation and maintenance of the antenna.
"This was a very smooth installation, which was supported well by the customer," adds
Rune Kristiansen
,
Head of the Vizada Networks Defence Division
. "We worked well with the NDLO, and had good cooperation in strengthening the QA management.
Despite a short lead time for the installation we finished on time and were able to adapt to changes in the project whilst suggesting some of our own, including switching from part utilization of the Ku-band to full utilisation of it, resulting in a faster, better service for the NDLO in operation
."
Although this antenna installation was a separate project organized by the Norwegian MoD, Vizada Networks and NDLO have recently expanded their existing co-operation by entering into a Framework Agreement for the supply of commercial satellite capacity and additional services. Vizada Networks is providing NDLO with worldwide coverage and support within satcom (VSAT) solutions.