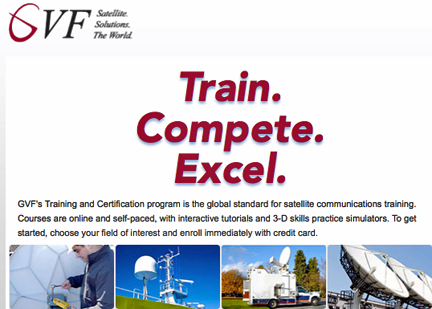 [SatNews] The effectiveness of Asia-Pacific disaster preparedness and response has been enabled through the recent certification of participants from more than 20 militaries on the use of satellite communications systems to ensure that in a crisis or disaster there are trained individuals available throughout the region who can assist with relief efforts.

The one-week training program was held as part of the "Satcom Endeavor" information-sharing module of "Pacific Endeavor," a joint program of militaries from throughout the region sponsored by the US Pacific Command. The training was provided by GVF, the international association of the satellite communications industry, with support from leading providers of bandwidth, earth stations, integration, and online, inter-active training.

"GVF's Member companies and partners were instrumental to the success of the satcom training and certification program," said David Hartshorn, Secretary General of GVF. "SES and SatProf provided Scholarships and expert support for the training, while systems, services and subject-matter specialists were made available by AQYR, GATR Technologies, Integrasys, Mahdi Bagh Computers, Mercantile, and SpeedCast."

"Thanks to their support, we were able to achieve our goal of ensuring that all participants obtained valuable knowledge and lessons learned from actual field experience, and were able to pass the rigorous training," said Steve Birnbaum, Chairman of the GVF's Humanitarian Assistance & Disaster Response Programs. "They are now able to return to their countries, and stand ready to use their new skills, relationships and ideas for improved collaboration to help save lives during any disasters that may strike the Asia-Pacific region in the future."

During Satcom Endeavor, which was expanded from two days in 2012 to eight days in 2014, representatives from all 21 participating militaries achieved the GVF Basic Satcom Professional Certification, and either began or completed training for GVF Advanced Satcom Professional Certification. Several of the participants also earned GVF's new General Auto-Point Terminal Operator Certification, and hands-on practical exercises were conducted on standard 1-meter VSAT, the AQYR 1-meter auto-point antenna, and the GATR inflatable 2.4-meter antenna.

"Our goal is very simple," said Riaz Lamak of Mahdi Bagh Computers and a GVF Co-ordinator for Satcom Endeavor. "We want to provide training that can help save lives. Militaries need quick deployments as satellite communications is an important base for connectivity. Although you'd have fiber and other means of communications, the most important thing is that people are trained so that the network works properly, the signals don't drop, and communications happen," he said.
For additional information regarding GVF, please visit their infosite at http://www.gvf.org