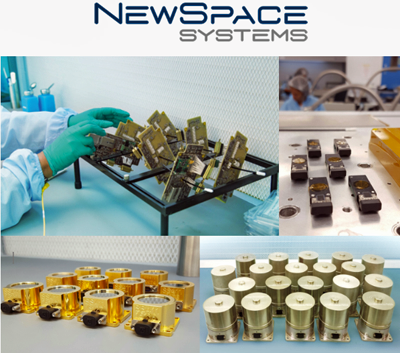 With operational constellations steadily on the rise, this trend was increasingly apparent at the Small Satellite Conference which was held in Logan, Utah, last month.
Having supplied components for constellations such as Sierra Nevada's Orbcomm Gen2, SpaceFlight Industries Black Sky, CONAE's SARE and, more recently, having been selected to provide components for a global broadband satellite constellation (not to be named), the NewSpace Systems (NSS) team continues to prove themselves capable of delivering large quantities without sacrificing any of the quality that the NewSpace brand has become known for internationally.
According to James Barrington-Brown, the firm's CEO, manufactured in an ISO certified cleanroom by ESA certified technicians, NewSpace prides itself on delivering lean yet reliable products which satisfy clients' budgets as well as their mission lifetime.
In addition to doubling the size of their ISO certified cleanroom, the NewSpace team has also established a dedicated Magnetorquer Rod manufacturing area to ensure a smooth, stream-lined manufacturing process for one of the company's client's constellation orders. The area is divided into multiple stations where the rods are assembled, wound with a copper coil, soldered, tested and packaged. The entire process from assembly to packaging is all completed in one location to minimize delays.
Additionally, now all NewSpace products can be purchased in the USA through the company's reseller, Oakman Aerospace.