Marshall Communications Corporation (MARSHALL) extended its expertise in support of the Military Utility Assessment (MUA) under its Tactical Service Provider (TSP) contract with the Defense Information Systems Agency (DISA) during a special VIP Day for high level Government executives.
The executives were witnesses to a demonstration of a hybrid communications architecture using emerging standards-based, SATCOM, and wireless technology to extend global, wideband communications and services to the tactical edge including Digital Video Broadcast (S2), Return Channel via Satellite (DVB-RCS/S2) and WiMax mobile technologies which could be used by our soldiers, sailors and airmen in-theatre, to more efficiently accomplish their missions.
The MUA was supported in
four (4) locations: U.S. Central Command (USCENTCOM) (MacDill AFB, FL); Joint Systems Integration Center (JSIC), (Suffolk, VA); U.S. Transportation Command (USTRANSCOM) (Scott AFB, IL); and MARSHALL's hub in Hagerstown, MD
. The demonstration successfully
showed 14 mission vignettes, including applications such as Biometrics updating, Combat Camera Team video and stills and RF/ITV cargo in transit visibility tracking within seconds, as opposed to hours, as currently being done.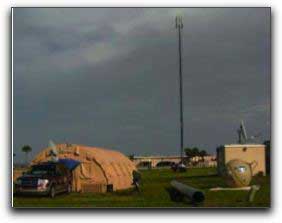 Additionally, the demonstration also featured
live video from Unmanned Aerial Vehicles (UAVs)
to handheld devices and access to the NIPRNET and SIPRNET extended to workstations on attached local area networks.
In attendance at the MUA in Tampa, FL, Mr.
Bruce Bennett
,
Director, SATCOM, Teleport, & Services, (SES PEO-STS), at DISA
was pleased as to
successful execution of the Joint Capability Technology Demonstration, on budget, on schedule plus demonstrating superior capabilities than originally promised.
Mr. Bennett has long been a major proponent of the capabilities planned for the Joint IP Modem, and extension of wideband capabilities via WiMax mobile technology to our troops on the ground. Other VIPs in attendance included: Ms.
Donna Durante
,
Program Manager, GBS JPO
who stated "
this is the future of GBS
"; Mr.
Dick Lee
,
OSD Oversight Executive (OSD AT&L)
; Mr.
Marty Drake
,
CENTCOM J8
, stating "
this is the technology that will make a difference on the battlefield
" and Joint Staff AOs.
Headquartered in Ashburn, VA, Marshall Communications Corporation is a small disadvantaged (SDB- certified), Veteran-Owned Small Business (VOSB), and was established in 1991 that has been providing high quality satellite communications and multimedia networking solutions including full turnkey systems engineering and integration using COTS to DOD and non-DOD agencies for over 17 years.