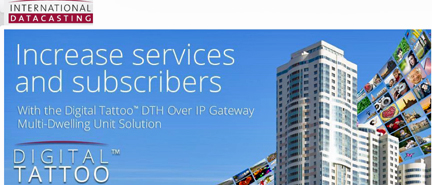 [SatNews] International Datacasting Corporation (TSX:IDC) ("IDC" or the "Company") has just released an update on the Company's action plan and recent progress against that plan.
IDC has conducted a comprehensive review of the Company's cost structure. As a result, a first phase of cost reductions was implemented in late 2013. Following the recent announcement regarding the Canadian Forces Radio & Television (CFRT) contract, an additional phase of cost reduction has been initiated. In total, the two phases will achieve the following in Fiscal 2015:
Manufacturing, supply chain, and logistics will be consolidated in Ottawa, resulting in more efficient and lower cost global operations
Management overheads will be reduced, and IDC's structure simplified. In addition to reducing cost, this is expected to reduce complexity and speed decision making
External costs such as marketing, consultancy, travel, and outsourced services will be substantially reduced
Approximately 30 percent of IDC's workforce, including all executives, will reduce their cash compensation in exchange for equity during Fiscal 2015

IDC's board is working with management to provide feedback and support on key operational and financial aspects of the business. In addition, the board has reassessed IDC's three-year business plan in light of the changes and reviewed alternatives to maximize shareholder return.
"Despite the reduction in revenue and cash flow from the decision to discontinue the CFRT service, IDC has an existing and developing suite of products that provide a stable base from which we can operate", stated Chris Van Staveren, Chairman. "Management has been proactive in prudently reducing costs, while ensuring that the long-term future of the business remains attractive."
As previously announced, IDC expects progressive improvement in results during Fiscal 2015. The following results have been achieved early in the financial year:
The LASER Two product is now in live service with a customer, and a second customer has completed evaluation of the product and placed a volume order during February;
The STAR G2 product is now shipping in volume, and an order for more than 100 receivers by a Latin American customer is expected to be delivered during the first quarter
IDC's Digital Cinema pipeline continues to be robust, with increased shipments expected during the first half of Fiscal 2015 compared to the same period in Fiscal 2014
IDC's President and CEO Doug Lowther said, "IDC experienced an exceptionally challenging year in Fiscal 2014. The team has responded to these challenges by renewing our strategy, structure, and market positioning. While the plan includes an increased degree of risk following the CFRT decision, we continue to expect progressive improvement in IDC's results during Fiscal 2015. I would like to thank our customers, shareholders, and employees for their continued support and dedication to IDC".
The disclosure in this news release has been reviewed and approved by IDC's Board of Directors and is based on information available to the Company as of the date of this release.