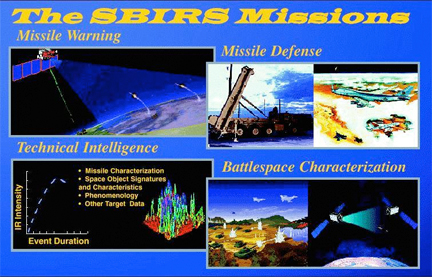 [SatNews] The Space Based Infrared System (SBIRS) Block 10 Unit Qualification Trainer (UQT) was recently unveiled at the 460th Space Wing in Aurora, Colorado, and marks a significant milestone in the SBIRS program—the UQT will be used to train the SBIRS operators for the next 20 to 30 years.
The SBIRS program is a satellite family comprised of three constellations, whose mission is to detect missile launches around the world, and to provide early warning to the national command authority and theater users. The SBIRS mission also supports Missile Defense, Technical Intelligence, and Battle-Space Awareness for a broad spectrum of military and intelligence users. Currently, each SBIRS constellation is operated by separate squadrons in geographically separated locations. Block 10 will allow all three SBIRS mission objectives to be operated from a single location beginning April 2016. The delivery of the UQT is the first step in providing the consolidated ground operations center, which will be operated by the 2nd Space Warning Squadron, a subordinate unit of the 460th Operations Group.
The UQT is the simulator that the operators will use in their rigorous and highly technical crew training. The system is designed to provide full unit training for multiple crews consisting of 26 skilled operators at any one time. The UQT will ensure crew readiness and the ability to monitor satellite health and mission performance, as well as prepare them for any event in a real-world situation. The UQT is built on the Standardized Space Trainer (SST) architecture, which is an AFSPC-wide standard training system. It is the baseline platform for training all AF satellite operators. The SST is designed to operate much like an interactive video game system, in which the users can simply plug in their mission and run their customized scenarios.
The Air Force Space Command's Space and Missile Systems Center, located at Los Angeles Air Force Base, is the U.S. Air Force's center of acquisition excellence for acquiring and developing military space systems. Its portfolio includes GPS, military satellite communications, defense meteorological satellites, space launch and range systems, satellite control networks, space based infrared systems and space situational awareness capabilities.