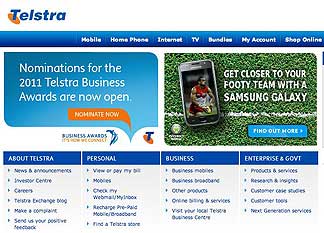 TELSTRA has absorbed the submarine cable and satellite assets of one of its loss-making Asian joint ventures...
as it moves to improve telecommunications for its international customers.
Telstra and Hong Kong-based PCCW agreed to split the assets of the operations of their 50:50 joint venture Reach — a submarine cable operator — last month in a restructure expected to book Telstra an accounting gain of up to $150 million.
Yesterday, Telstra announced the restructure had been completed and that the telco's international business had received 75 per cent of Reach's assets.
Under the restructure,
Telstra International has taken direct ownership of more undersea cable assets, an international telephony network, a satellite network that reaches over two-thirds of the Earth's surface and more than 300 staff.
The remaining assets will be split between PCCW and Reach, which will continue to manage the remaining joint assets from its Hong Kong base.
Telstra International executive director global sales
Philip Mottram
said the new assets would allow the telco to service new sectors and enhance offerings to customers.
"The driver is us inheriting a great set of networks, systems, people and capability that we intend to absorb into Telstra International and then build upon that as a basic platform
," he said.
"These assets will help our wholesale and enterprise customers reach further into Asia,
particularly into developing markets like Indonesia, The Philippines, Malaysia
and so on."
The restructure all but marks the end of
Telstra's $4 billion alliance with PCCW, first entered into at the peak of the global technology boom in April 2000
. The alliance included a majority stake in Hong Kong mobiles group CSL and the Reach submarine cable joint venture.
The alliance has not been a very lucrative one for the telco giant.
The deal between Telstra and PCCW was done days before the dotcom crash hit global stockmarkets in 2000. Telstra has since been forced to buy 100 per cent of CSL and to write the value of the deal down by more than $2.5bn as PCCW fell apart under heavy regulation and debt, taking most of Telstra's joint venture investment with it.
In 2005, Telstra and PCCW entered into an arrangement to share Reach's international cable capacity.
Article originally
from The Australian.