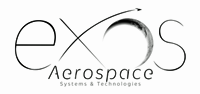 A successful launch for EXOS Aerospace Systems & Technologies, Inc. via New Mexico's Spaceport America occurred on August 25 as the firm's latest rocket — SARGE — gained altitude.
Following the completion of the the design, testing and build of their latest platform, and after receiving their FAA launch license and final integration completion, this launch of the firm's SARGE reusable system solidifies the company's plan to use this technology as the design basis of their reusable (first stage) of a 100 to 200 kg., 200 to 400 km capable Orbital class vehicle.
The Suborbital Autonomous Rocket with GuidancE — SARGE — took to the skies at around 2:15 p.m. EST and, 15 minutes later, landed via parachute near the launch pad. A small, orbital launch vehicle called Jaguar is in the planning stages by Exos Aerospace and is morphing around SARGE tech as well as software from NASA, which they developed for their Flight Opportunities program, that has been modified by Exos and their partners.
Executive Comment
John Quinn, the COO at Exos, stated that all of the recovery systems were operational and this was a highly successful test. Earlier, he said that the firm looks forward to enabling space research, manufacturing, and educational opportunity for the world by providing frequent suborbital flights that provide fast and affordable access to Space. Since the 36-foot tall 20-inch diameter SARGE rocket is designed for reusability, it is proving to be an excellent risk mitigation platform for our orbital technology development program and helping drive space access costs down. The software and technologies we have developed are key to development of the reusable first stage of our planned Jaguar vehicle.