[SatNews] Earlier this week SatNews.com shared information about the upcoming awards dinner to be held on September 13th at IBC...Now we have the name of the winner.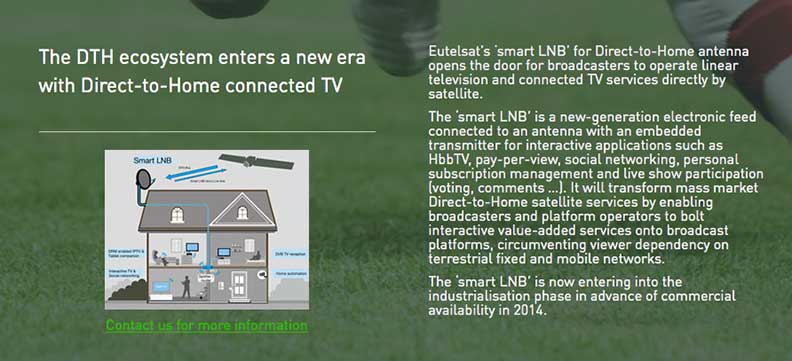 The "smart LNB" developed by Eutelsat Communications (Euronext Paris: ETL) and presented for the first time at the IBC show in Amsterdam, has won The EUsatcom Innovation Award 2013 that honors innovative satellite communication projects in Europe and the complex interdisciplinary teamwork mobilized to deliver them.

Endorsed by the SSPI (Society of Satellite Professionals International) the Awards recognize the fact that the satellite industry has entered an IP-based era that brings new ways of co-creation for systems and solutions to meet customers' global demands.

The "smart LNB" for a new satellite broadcasting ecosystem was shown live for the first time at IBC. The "smart LNB" is a new-generation electronic feed connected to an antenna with an embedded transmitter to provide services such as HbbTV, pay-per-view, social networking, live show participation, personal subscription management and audience measurement. It opens the door for broadcasters to operate their own ecosystem of linear television and connected TV services directly by satellite.

Speaking at the Awards, Antonio Arcidiacono, Eutelsat Director of Innovation, said: "This Award is a resounding endorsement of Eutelsat's commitment to innovation that broadens the scope and competitivity of satellite services. This first recognition of the "smart LNB" and the enthusiastic response by broadcasting professionals during IBC confirms we are on the right track and encourages us to pursue innovation that adds value for customers."