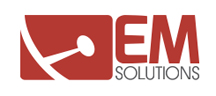 EM Solutions has recently been contracted by Raytheon Australia to supply their Cobra X/Ka tri-band Maritime Terminals and associated network infrastructure to the Royal Australian Navy as part of the SEA1654 program that will deliver two new supply vessels.

This order follows the successful deployment of the same Cobra platform on both Navy and Border Force Cape Class Vessels, and further enhances EM Solutions as an Australian SME delivering leading edge capability to the Australian Defence Force. The project is being fulfilled from EM Solutions facility in Brisbane.
EM Solutions CEO, Dr. Rowan Gilmore, commented that demand for the firm's Cobra and other on-the-move solutions has been very high in recent times; however, this is the first project for these products the company is managing under full ASDEFCON supply conditions. This is a significant step forward for EM Solutions business, given the complexity and value of the solution being supplied and the need to ensure there is full support for the firm's Prime Contractor in delivering an exceptional outcome for the end user. A program of this nature enables the company to enhance systems and processes for project delivery and future support and sustainment.