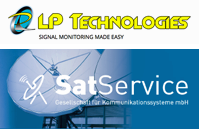 LP Technologies (LPT) and SatService GmbH (SatService) are going to partner again at IBC2017 to jointly present their latest solutions and top of the line products — SatService is an official distributor of LP Technologies products in Europe. In addition to their own systems solutions, SatService also resells LPT's spectrum analyzers and signal monitoring systems.
These companies will be at Booth # 1.F47 during the exhibition at the Amsterdam RAI Exhibition and Congress Center, which runs from September 15 through 19, 2017. They will introduce LPT-ASM 2.3.3 and WEB-SPECTRUM 1.1.0. The system delivers a powerful, effective, and cost-effective carrier monitoring and interference detection solution that the companies report is unmatched.

The LPT-3000RX4 is LPT's fourth generation remote spectrum analyzer that offers multi-port, full-DSP base, precision analysis that is designed to meet requirements for applications in multiple industries, including satellite, wireless/cellular, military, oil & gas, and many more. The LPT-3000RX4 has a wide frequency range that covers IF's 70 MHz, satellite's L-band and spans from 9 KHz up to 3 GHz. The LPT-3000RX4's specifications include:
17 RBW and 17 VBW Filters
Optional 8 and 16 input ports
Optional built-in Carrier Identification & Extraction capabilities
Optional built-in Ka-, Ku-, and C- to L-band built-in down converters
Fits 1 RU 19" Rack Space
Built-in 4 Switchable Ports
55 dB Port Isolation 0.5 ms Switch Time Between Ports
Digital Signal Processing Technology
310 µs Sweep Times in Fast Mode
High Definition Trace
Mr. Micky Mukalay, VP of Business Development at LP Technologies, said forget all you know about satellite signal because LP Technologies is re-inventing the way spectrum monitoring is done. Finally, here is a tool that is for Engineers, Technicians, Operators and Customers; something that is designed but users and built by people who listen."
There is a short video of ASM's capabilities on YouTube — or, should you prefer, request 24 hours login access on a live system at www.lptapps.com. However, the best way is to meet with SatService and LP Technologies at Booth # 1.F47 in Amsterdam and receive a personalized demo.