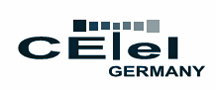 The CETel Group (Central European Telecom Services) have announced further cooperation with Arabsat to expand the existing solution portfolio by providing high quality solutions on Arabsat 5C in Extended C-band.
Arabsat and CETel will deploy an additional 9.3m Antenna at the CETel Teleport facilities near Cologne/Bonn pointed towards Arabsat 5C at 20 degrees East. The infrastructure expansion will enable CETel to provide individual solutions with high demands for pricing, reliability and bandwidth: Extended C-band allows for cost-effective solutions while maintaining the high quality Arabsat and CETel are recognized for. Especially for networks and trunking connections requiring high amounts of bandwidth, e.g., for ISPs and telecommunication companies in Africa and the Middle East, CETel designs tailored end-to-end solutions on Arabsat 5C in extended C-band.
The announced cooperation for new services is part of Arabsat's and CETel's long-lasting strategic partnership. Their shared goal is to provide high-quality solutions for satellite-based communications worldwide today and beyond.

Additionally, Arabsat and Telesat Canada (Telesat) have signed a strategic commercial agreement under which Telesat will use a lifetime Ku-band payload on a the new satellite Hellas-sat-4.
The new satellite's RFP is going to the market in March as part of Arabsat's RFP for its 6th generation satellites and will incorporate the design and manufacture of four new satellites. Hellas-sat-4 is expected to be launched in 2017 and will be located at 39 degrees East. Under the terms of the agreement, Telesat has acquired, on an exclusive basis, use of a high powered Ku-band payload providing coverage of Europe and the Mediterranean region.
CETel Group's infosite is located at http://www.ce-tel.com/
Telesat Canada's infosite may be accessed at http://www.telesat.com/
For more information regarding Arabsat, please visit http://www.arabsat.com/