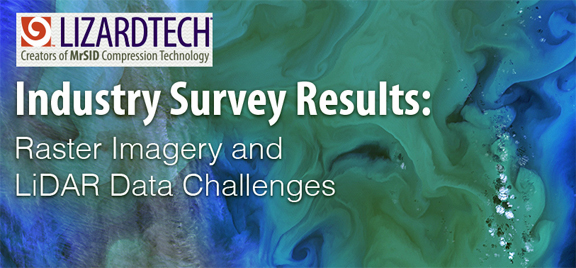 [Satnews] LizardTech®, the creator of MrSID® and provider of software solutions for managing and distributing geospatial content, has published the results of a survey into the preferences and challenges of raster and LiDAR data users.

Analyses of the results are available in a free survey report that can be downloaded from the LizardTech website.Three 'Pain Point' questions asked respondents to identify their biggest challenges related to raster data use in general, data access via a network or the internet, and LiDAR data processing and storage. The report reveals the most commonly used types of raster imagery, most popular method of storing imagery and favored image file format. Survey respondents also had the chance to voice their opinions on what would make raster data more useful to them.
The free report offers end users across the industry an opportunity to see how they compare with their colleagues regarding raster data usage habits and difficulties. LizardTech asked geospatial users to complete the survey either online or in person at the Esri User Conference in July. The report also includes details on respondent demographics.
Executive Comment
"The survey provides high-level insights into how raster imagery and LiDAR data sets are used, compressed, accessed and stored," said Robert Parker, LizardTech Product Manager. "The bottom line is that all geospatial users still encounter at least one pain point in dealing with their data and they have opinions on how to make their experiences better. Some survey results were predictable, but many others were surprising. For instance, one quarter of respondents use raster data in engineering, surveying and photogrammetric applications, but a larger percentage than expected uses their data in projects outside of the more traditional GIS applications."