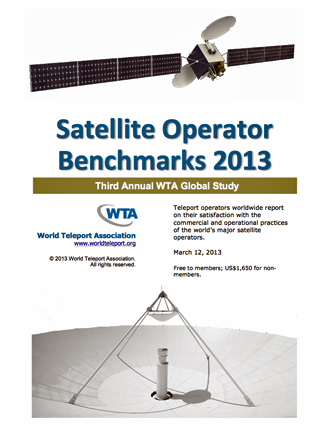 [SatNews] Teleport operators worldwide report on their satisfaction with the...
...commercial and operational practices of the world's major satellite operators in the third annual WTA global study, Satellite Operator Benchmarks. The study tracks, rates, and compares the operational and commercial performance of satellite operators, as experienced by teleport operators, with the objective of strengthening the industry by driving self-improvement across all companies. Key findings from the report include...
Key Findings

WTA conducted 14 percent more interviews with teleport executives in 2013 than in 2012.
Our respondents reported annual spending of US$537 million on a total of 91GHz of capacity from 15 global and regional satellite operators. They were a representative cross—section of teleport operators, bridging small, midsize and large companies in the major commercial regions.
In 2013, two new companies were added to the analysis—Asiasat and Satmex—expanding our coverage to seven global and regional satellite operators.
For commercial practices, Arabsat and Telesat topped the commercial rankings with an average score, respectively, of 4. 2 and 4. 1 out of 5. The much larger operators plus one regional operator were closely grouped aft er them: SES with 4.0 , Intelsat and Asiasat with 3.9 and Eutelsat with 3. 8 out of 5. Satmex trailed the group with a score of 3.5
The Big Three of Eutelsat, Intelsat and SES saw a significant improvement in ratings on their commercial practices: a 9 percent improvement over 2012 and 25 percent improvement since 2011 for Eutelsat; a 5 percent improvement over 2012 and 20 percent improvement since 2011 for Intelsat; and a 3 percent improvement over 2012 and 14 percent improvement since 2011 for SES.
In 2013, every satellite operator covered by the report was cited as a direct competitor in at least two-thirds of total responses, a significant increase from 2012. Citations of direct competition from respondents rose for every operator except Eutelsat.
The Big Three, however, saw double-digit improvements in how respondents perceived the fairness of that competition, an issue of particular concern to teleport operators. Arabsat and Telesat, meanwhile, saw declines in this area.
Teleport operators perceived meaningful declines in operational performance by most satellite operators from 2012 to 2013. Telesat, SES and Arabsat posted the largest declines in perceived operational performance, while changes at Eutelsat and Intelsat were nominal.
The Big Three posted improvements ranging from 10 to 25 percent in their Net Promoter Scores from teleport operators, while Arabsat and Telesat both saw declines.