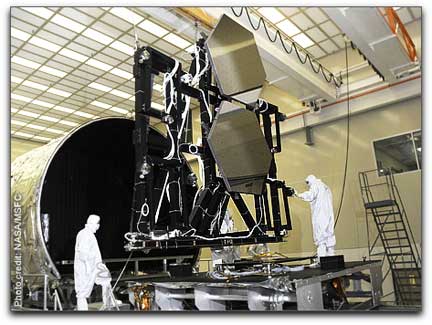 The first mirror segment that will fly on the James Webb Space Telescope (JWST), built by Northrop Grumman Corporation (NYSE:NOC), has completed its first series of cryogenic temperature tests in the X-ray and Cryogenic Facility at the Marshall Space Flight Center in Huntsville, Alabama. To give engineers absolute certainty the mirrors can withstand the rigors of space, they will be polished more and tested again.
The mirror segment is the first of 18 flight mirror segments that will be joined to make a giant, 6.5-meter diameter (21.3 ft.) hexagonal mirror. The segments will be subject to temperatures of
-414 degrees Fahrenheit
in a 7,600 cubic-foot helium-cooled vacuum chamber at the
Marshall Center
. Engineers will measure in extreme detail how the shape of the mirror changes as it cools to cryogenic temperatures. Then the mirror will be polished at room temperatures in the opposite of the surface error values observed, so that when the mirror shape changes in the second cryotest, it will "distort" into a perfect shape.
As there are 18 mirror segments, each measuring about 1.5 meters (4.9 ft.) in diameter, they will be tested in batches of six and chilled to cryogenic temperatures four times in a six-week time span. It takes approximately five days to cool a mirror segment to cryogenic temperatures. All flight mirror tests are expected to be completed in June 2011. The Webb Telescope is scheduled for launch in 2013.
Northrop Grumman
is the prime contractor for the
Webb Telescope
, leading a design and development team under contract to
NASA
's
Goddard Space Flight Center
.
Ball Aerospace & Technologies Corp
. is the principal optical subcontractor to Northrop Grumman for the JWST program. The
James Webb Space Telescope
is the next-generation premier space observatory, exploring deep space phenomena from distant galaxies to nearby planets and stars. The Webb Telescope will give scientists clues about the formation of the universe and the evolution of our own solar system, from the first light after the Big Bang to the formation of star systems capable of supporting life on planets like Earth.
(
Engineering technicians guide two mounted mirrors into NASA Marshall Space Flight Center's X-ray and Cryogenic Facility's vacuum chamber for testing. Photo credit: NASA/MSFC
.)