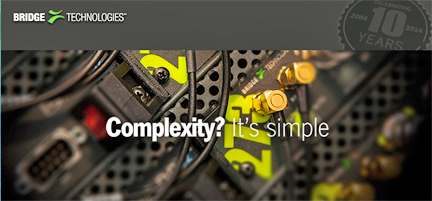 [SatNews] Bridge Technologies has appointed MERA-TECH as its regional business partner for MENA.
With a new office in Dubai from 2015, MERA-TECH will carry and support the entire Bridge Technologies product range. MERA-TECH's appointment follows Bridge Technologies' involvement in one of the region's largest initiatives, having been chosen to supply monitoring technology for a key player for which MERA-TECH is a system integrator.

"Bridge Technologies is establishing a stronger presence in MENA, and our partners MERA-TECH will be very instrumental in building our profile, together with Omar Hawary, our Strategic Business Development Manager for the region," said Simen K. Frostad, Chairman of Bridge Technologies.

Through MERA-TECH, media organizations and telcos in the region will now be able to benefit from Bridge Technologies' leading-edge solutions for terrestrial, satellite, cable and OTT operators, with award-winning monitoring and analysis probes, intelligent redundancy switching systems and remote video wall displays.

"We are delighted to add the outstanding Bridge Technologies' product line to our world-class inventory including solutions from Cisco, Skyline Communications, Newtec, Snell and others," said Nicola Gianaroli, Business Development Manager at MERA-TECH. "Now we can offer our customers the optimum in intelligent solutions for developing and operating highly profitable digital media services."

MERA-TECH will demonstrate the Bridge Technologies product line at CABSAT in March 2015.
More information about Bridge Technologies and the company's products is available at http://www.bridgetech.tv/.