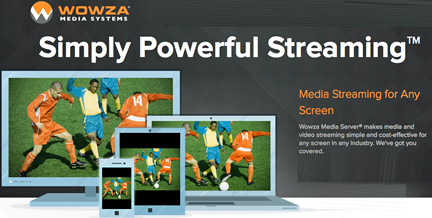 [SatNews] Wowza® Media Systems, LLC, provider of Simply Powerful Streaming™ media server software, and global Dynamic Delivery Network provider, Mirror Image, have teamed up to launch Wowza CDN Connection.
This gives customers a single place to set up a content delivery network (CDN) and Wowza software to reliably stream media to audiences around the world with exceptional quality to any device. The companies announced the new partnership during this week's Streaming Media West in Huntington Beach, California.
With the new capability, customers can take advantage of:
A unified, single-vendor solution to integrate multiple parts of the delivery workflow with a consolidated bill;
Lower total cost of ownership, with significantly lower startup capital and operational investment required compared to conventional custom-built origin-edge systems;
Pay-as-you-go pricing flexibility and scalability that makes it easy and affordable to spin up and spin down resources on demand and eliminates the wasted expense of underutilized resources; and
Rapid deployment with cross product integration to get up and running within days or weeks, instead of months.
Granicus, the leading provider of cloud-based streaming services for local, state and federal government agencies, is the first to launch with the new Wowza CDN Connection, rapidly moving traffic on its Open Platform content delivery system to the Wowza CDN Connection in "under 10 lines of code."
More information at http://www.wowza.com/