Surface Heating Systems of Fife, Scotland, is partnering with Alpha Satcom of the USA in the provision of two Anti-Icing Systems, both on 9.0 meter Limited Motion Antennas that are located in Europe.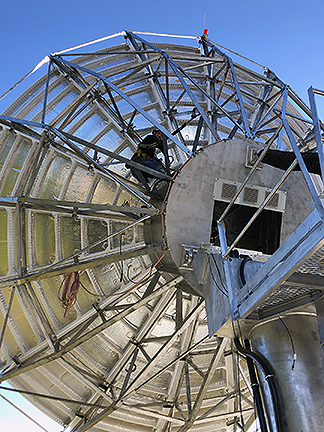 The first system for France Telcom is a 9.0 meter, Ku-band with a step-track controller and an electronic package integrated into the hub. The custom made Anti-Icing heating elements are applied directly to the back of the panels within the cavities formed by the panel structural members. The system also provides to the customer the capability of heating either the complete reflector or various sections as demanded by the local current conditions — in addition to the main reflector, the sub-reflector is also heated.
The second, similar system, is located in Spain and is a special 9.0-meter, Ka-band antenna with a mono-pulse controller and, once again, hub mounted electronics. Whole or partial heating is also supplied for the main reflector as well as heating the sub-reflector on this site.
These systems heat the antenna directly and are via a fully automated snow sensor and smart control panel, which gives the operator the capability to monitor and control the heating remotely via a web I/O interface.