[SatNews] Globalstar Europe Satellite Services Ltd., a wholly owned subsidiary of Globalstar, Inc. (Nasdaq:GSAT) has signed an authorized distribution agreement with...
...Virtual Mobile Data (VMD). VMD will act as a National Distributor for Globalstar's suite of duplex and SPOT products to the defence, government, maritime, oil and gas, transportation, tourism and mining sectors within the Tunisian and Algerian Mainland Territories via their established Dealer channel.
On September 25th 2012, Globalstar announced that it had eliminated roaming charges between Independent Gateway Operator, Globalstar Avrasya of Turkey and Globalstar Europe. Globalstar Europe Satellite Services gateway in Aussaguel, France, and Globalstar Avrasya's gateway located in Ankara, Turkey, are now provisioned to facilitate flat rate telecommunications throughout all of the European sub-continent as well as Northern Africa, the Middle East, most of the Mediterranean and the eastern Atlantic Ocean maritime region.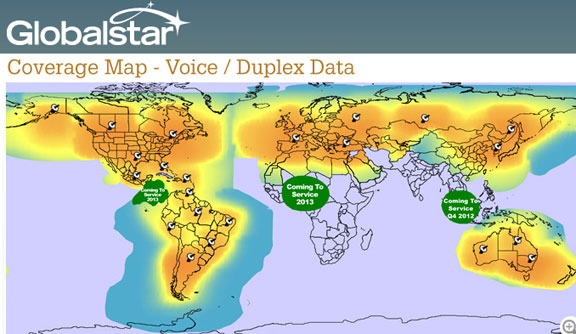 Globalstar is currently planning to launch six additional LEO (low-earth orbit) satellites in early February 2013, completing its second-generation satellite launches. The Globalstar second-generation satellite constellation is designed to support the Company's current line-up of voice, Duplex and Simplex M2M data products and services including its suite of SPOT retail consumer products. The new satellites are designed to last for 15 years, twice the lifespan of Globalstar's first-generation satellites.