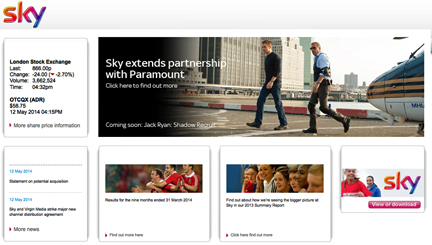 [SatNews] BSkyB confirmed on May 12th that the firm is in "early talks" with Rupert Murdoch's 21st Century Fox about a possible take-over of Fox's payTV assets in Germany (where Fox owns 54.8 percent of Sky Deutschland) and Sky Italia (which Fox owns 100 percent).
"BSkyB believes at the right value, this combination would have the potential to create a world-class multinational payTV group," the group said in a statement released early on Monday morning May 12.
Sky Deutschland's share price closed on May 9th at 6.34 billion euros, giving the company a market capitalization of 5.5 billion euros. Within 15 minutes of the German DAX opening, the price rose 6.5 percent (47c) to 6.81 billion euros (and boosting its market cap to 5.97 billion euros). Sky Deutschland's Volume-weighted average price (VWAP), which most expect to be applied for any purchase, is 6.93 billion euros. BSkyB's trading price fell back by 3 percent to 8.67 billion pounds. BSkyB's market capitalization is some $22 billion.
This is not the first time that Rupert Murdoch has attempted to create a European-focused operation. In 1998, Murdoch appointed the former chairwoman of Italian public broadcaster RAI, Letizia Moratti, to run 'News Corp Europe' and, in 2000, announced plans for Sky Global Networks, which failed to materialize. The 2000 'Sky Global' included smart card company NDS (now sold to Cisco), as well as Latino and Japanese businesses, all since disposed of.
Story is courtesy of Senior Contributor, Chris Forrester.
For further information, please read Chris' feature upcoming
in the June issue of SatMagazine.