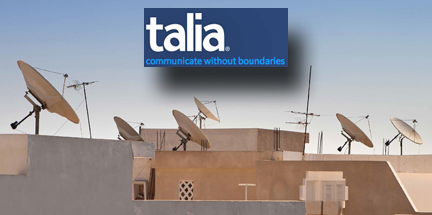 Talia Limited now has a partnership with Arabsat for a new 10-channel video uplink to the Arabsat Badr-7 satellite located at 26°E.
The service will offer SD and HD channel uplinks and will form the basis of a new high-power Ku-band neighborhood over Iraq. Content will be up-linked from the Talia Teleport in Raisting, Germany, and monitored for quality in the Talia NOC in Erbil on the Badr-7. With many content creators looking to new audiences, the neighborhood of channels will provide a voice and original Iraqi-themed programming to millions of currently underserved and underrepresented citizens. Following scheduled meetings at IBC2017, Arabsat expects that number to increase further.

With Talia's strong regional presence in Iraq and with a well-established customer base, Talia is ideally placed to serve the region.
Talia CEO and President Alan Afrasiab noted that this partnership cements our on-going commitment to Arabsat. This service will start with 10 channels but we believe this will expand as more broadcasters reach the growing number of viewers in the region. The video platform continues to build on our existing broadcast services and experience and the Middle East's leading communications provider.
Khalid Balkheyour, Arabsat President and CEO, said that his company conducted cautious surveys during the course of selecting a teleport partner to launch Arabsat's first DTH platform from Germany. Talia, with their globally recognized brand in terms of adequate and reliable satellite and terrestrial networks that offer various facilities that connect the Middle east and Europe with high monitoring capabilities and quality of service, provides an excellent solution for ARABSAT DTH Services from Europe which will provide Arabsat international and regional broadcasters with the optimum quality of service. Additionally, Arabsat has established a joint roadmap with Talia to develop Arabsat penetration into growing MENA markets, where Talia has already established theirdistribution services and signal delivery for a significant number of premium video channels.