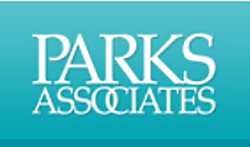 International research firm Parks Associates has announced that Brett Sappington, Senior Director of Research, will speak at the NAB Show, April 10, in Las Vegas, Nevada — he will explore consumer perceptions and choice of video services, including comparisons among vMVPDs (online payTV services), and how competition is evolving in this crowded space.
Sappington will share these insights during the session "Exploring Consumer Perceptions of OTT Subscription Choices" at 10:40 a.m. on Tuesday, April 10, at the Las Vegas Convention Center.
Sappington will also speak at the Streaming Summit at 10:15 a.m. during the NAB Show on April 11. Sappington will speak on panel "The Disruptive Impact of OTT on the Pay-TV Business Model," which examines the traditional payTV business model and whether it can exist as the number of OTT choices increases exponentially. Joining Sappington for the Streaming Summit will be Alan Breznick, Cable/Video Practice Leader, Light Reading.
Parks Associates' 360 View: Access and Entertainment Services in U.S. Broadband Households reveals that 10 percent of U.S. broadband households switched providers, downgraded their service, or cancelled payTV service in the past 12 months, primarily due to a negative perception of the service value, including statements that the "service wasn't worth the monthly cost" or complaints that the service provider increased the price of the service. By comparison, 77 percent of U.S. broadband households currently subscribe to pay TV, a drop from 81 percent in late 2016.
Sappington said that poor perceived value is the leading factor driving cord cutting, downgrading services, or switching providers. It is a primary reason for consumer interest in online payTV services, which are typically available at a much lower price than traditional payTV. Operator strategies to counter subscriber loss could include promotional options, including bundling OTT video services or the offer of free or subsidized CPE. Cord Cutters and Cord Shavers indicate these types of offers could entice them to keep their traditional payTV subscriptions.